Charlotte Web Design $99
Charlotte Web Designs $99! Affordable Website Design. SEO Professional. Hosting from $2.50 mo.
Raleigh, Greensboro, Winston Salem, Greensboro, Durham, Fayetteville, Charlotte Web Design for $99. Serving North Carolina, Virginia, and Maryland with cheap web designs prices to fit any budget web design needs.
Need more than a 3 page business web design? Get FREE Domain Registration, FREE Web Hosting, FREE SEO, and more when OZONE creates your complete custom web site design.
Click here or Call 804.405.0459 for FREE Consultation.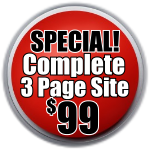 CLICK HERE
Just Need CHEAP Web Hosting for Under $5 mo? – click here