Who Am I?
Seems like forever ago that I 'worked' in my 'career' as a Morning Radio DJ. If you're in the Richmond, VA area, you may know me from doing the morning radio show on 107.3 and B103.
I also did radio shows in Hawaii, Guam (that's me in the pic with my purple 'yacht' outside of 'Wet Willies' on Guam), Denver, Kansas City, Portland Oregon, and Fresno for years as well. Anyone who has ever listened to me can agree on one thing… I really had a PASSION for what I was doing on the radio. The self satisfaction of making someone laugh… of making someone's day… of giving someone a prize… of doing a meaningful stunt to raise money for charity… are the things that motivated me in radio to WANT to do more.
To cap it all off, local writer in Richmond, Steve Cook of West End's Best Magazine, actually wrote an article about my radio days you can read here.
Such is the economics of certain industries, radio is no different… ended in December of 2009. What to do now… I know… affordable web design for small businesses… yah.. that's the ticket… Let's have some fun!
The 'Web Design' Guy
I started designing web sites back in 1994 when I was a morning radio DJ in Guam. A year or so before that, our resident radio station computer geek, Mark Stacy, showed me 'the internet'. It was on a 'Mosaic' browser and all I can remember seeing was 'text'. Like… a dark screen and text. Ooh. That was exciting. "I'm talking to this guy in London," Mark said excitedly. "And the phone doesn't work?," I quickly responded.

Well. It took me a few months to start thinking about the possibilities, and then I saw my first 'images' taking FOREVER to download on a 14k modem and a NetScape browser. Twenty minutes to download 1 web page and I was hooked! Count me ready to get on the net.!
This local Air Force military web 'guru' wanted $2500 to design a simple 5 page web site. "For that kind of money", I said, "I'll learn it myself, thanks!"
Well, it took me a few months and a few hundred hours, but I had built my first web site.
Now, thousands of hours and many years later, I've 'self taught' my way into designing numerous business web sites including Radio Station Web Design Cheap, restaurant sites, auto dealer website designs, and more.
What Can I Design For You?
Having a professional presence on the internet is a top priority for anyone wanting to 'connect' with people.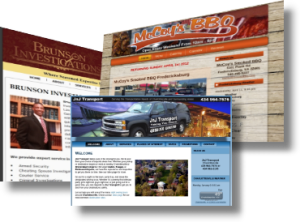 I can build Web Design Under $100. This is perfect for resumes, bios, announcements, flyers and more.  Most small businesses can get by with my 5 page All in One Design and SEO for $399 or 10 Page All in One Web Design SEO $599. I design Radio Station Web Design Cheap and Ecommerce Web Designs From $499 as well.
If you need to get ranked in the search engines, I offer FULL SITE SEO Services as well as SEO Promotion, Social Media Setup, and Consulting so you know where your money is going and where the best marketing investment should be for your business.
In just the past 3 years, I've designed radio station web sites, car dealers web designs, photography web sites, real estate agents, and more. The good comments I've received from customers has fueled my PASSION into a direct, and more meaningful way that helps small businesses.
The thing is, I LOVE designing websites, and I LOVE helping small businesses… and 2015 has been great year for me in that I was able to make a LOT more small businesses happy by designing good quality websites at roughly 500% lower than everybody else.
Bigger Goals for 2017
Each year gets a little better. I'm more excited than ever for 2017 to get at least 200 more small businesses on the web.  Are YOU ready? The reality is, if your business is not making use of the internet in some form or another, you're missing out BIG TIME! Make this THE year for you on the web.
If you're local to the Richmond Virginia area, I can meet with you personally to discuss your web design needs and get your internet presence started.
Really, though, it doesn't matter where you are in the world, because through email and phone, I can get you set up.
If you have any questions or need a FREE consultation, please feel free to contact me! 804.405.0459
Enjoy!
Greg
aka "Ozone'